Wayne County Offers New Grant Program for Small Businesses Impacted by COVID-19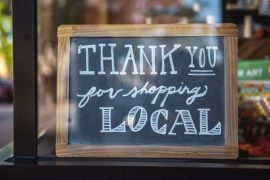 Small businesses in Wayne County will have another opportunity to seek relief for financial impacts caused by the pandemic. The COVID-19 OCRA Round 3 Small Business Grant Program was created using $250,000 in grant money awarded by the Indiana Office of Rural and Community Affairs (OCRA). The grant program is being offered by Wayne County Government, in cooperation with Forward Wayne County, EDC of Wayne County, Wayne County Area Chamber of Commerce, and Wayne County Convention and Tourism Bureau. Wayne County Commissioner, Jeff Plasterer says "Small businesses are the backbone of Wayne County's economy and many of them have been hard-hit by the pandemic. This grant program is an attempt to provide some much-needed relief to qualifying businesses who have been negatively impacted by COVID-19 to enable them to retain their employees and to return to profitability". Qualified small businesses can request a grant up to $10,000 to be used for various expenses. Applications for funding can be submitted now until 5:00 p.m. Friday, May 14th, 2021.
To qualify, for-profit businesses must be able to demonstrate a financial hardship due to COVID-19, have been in operation prior to March 1, 2020 and have 50 employees or less (can combine full- and part-time employees). The business must be physically located in Wayne County, but unlike previous funding programs, owners do not have to reside in Wayne County. Applicants must use the grant funding to retain Low-to-Moderate Income jobs (LMI).
Eligible expenses include: working capital including rent, mortgage, utilities, and other day-to-day expenses; payroll; supporting remote work; and to pay past due bills and/or pay any taxes owed. Funding should NOT be used for capital equipment purchases.
Go here for more details on the program and to apply.
For questions and more information contact Theresa Lindsey at theresa@whywaynecounty.com or by phone at 765-983-4769. Application packets can be submitted via the website or dropped off at the EDC offices, located at 900 North E Street, Richmond IN, 47374 (located in Richmond's Depot District).