Main Street Richmond and Resource Center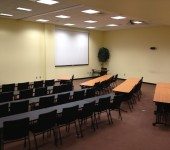 Main Street Richmond enriches Richmond's downtown by coordinating and collaborating with city government, property and business owners resulting in economic prosperity, community development and a vibrant Main Street District. A private, community-based organization, Main Street Richmond is focused on identifying and classifying commercial properties, forming partnerships to stabilize and marketing those properties to interested parties and supporting Main Street businesses. The Main Street Richmond office is located at 820 East Main Street, Richmond, Indiana.
The Resource Center is available for meetings and co-working space. Office space is also available for lease if available. The Resource Center is located at 814 East Main Street, Richmond, Indiana. For more information contact Main Street Richmond at (765) 962-8151.
Small Business Development Center (SBDC)
The East Central Indiana SBDC works with start-up and existing small businesses seeking financial, management, and technical assistance. Services include: one-on-one consulting; training, seminars and workshops; access to information, self-help materials, research assistance and networking opportunities. For more information please call the SBDC toll free at 866-596-7232 or visit them at the Innovation Center located at 814 East Main Street in downtown Richmond, Indiana.