Vandor Group Expands Adding Product Line and Jobs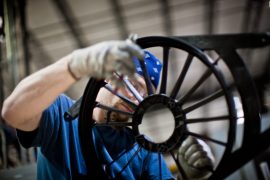 Vandor Group, Inc. is once again expanding its Richmond footprint. The company is investing in its Reel Options and Funeral Products divisions. Reel Options is adding a new product line into an existing 41,625 SF third Richmond plant on Progress Drive. Vandor Funeral Products is adding 17,750 SF onto its Rich Road facility.
The two projects plan for a combined investment total of $2.8M by the end of 2022 and the creation of 28 new full-time jobs over the next three years. Valerie Shaffer, president of the Economic Development Corporation of Wayne County, says it's always exciting to be able to partner with an innovative company like Vandor. "Their continued investment through their various divisions strengthens the economic base of the community. I am grateful that Vandor continues to invest in our community."
The company will receive a $38,000 Economic Development Income Tax (EDIT) Grant from the EDC of Wayne County to help offset the cost associated with the purchase of machinery and equipment, and existing building improvements. In addition, the company has received tax abatements from Richmond Common Council. Richmond Mayor, Dave Snow says "Vandor offers a solid history of positive impact and gainful employment in Richmond. I am thrilled to see this continued expansion and look forward to future growth."
The request for EDIT funds will now go before the Wayne County Commissioners for their consideration.
About Vandor Group, Inc.
Recognizing an opportunity to improve funeral service, Vandor was established in 1972 to build innovative burial casket interior components. By means of new techniques and inventions the company today includes Vandor Plastics, Reel Options, Vandor Funeral Products, Starmark Cremation Products, and Starmark Local. These divisions serve primarily automotive, and wire and cable customers as well as the bereaved through funeral service. For more information visit www.vandorcorp.com