Richmond Casting Company Invests in New Machinery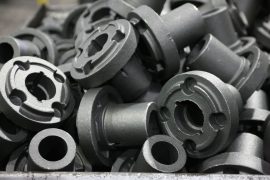 Richmond, IN (February 6, 2017) – Richmond Casting Company, a gray and ductile iron casting facility, will receive a $10,000 Economic Development Income Tax (EDIT) grant from the Economic Development Corporation (EDC) of Wayne County, Indiana.  Richmond Casting Company, located at 1775 Rich Road in Richmond, is purchasing a new molding machine. The machine produces the molds in which molten iron is poured to produce a casting. The new equipment will replace aging machinery and will allow the company to produce a stronger mold, as well as reduce maintenance costs and increase efficiency. The project will retain 28 jobs and the company will invest over $545,000 in the project. Richmond Mayor, Dave Snow says, "For 37 years, Richmond Casting has provided quality jobs and shown tremendous commitment to our community. It should always be our goal to help local businesses like Richmond Casting retain their workforce and have the ability to expand and grow."
Richmond Casting Company received a $200,000 EDIT grant in 2009 when president, Gill McBride purchased the company, keeping jobs in Wayne County. Valerie Shaffer, president of the EDC says, "We're pleased to be partnering with Richmond Casting Company again. "They're a great company and we're thrilled they have remained in Richmond and Wayne County." The request for EDIT funds will now go before the Wayne County Commissioners for their consideration.
About Richmond Casting Company
Richmond Casting Company pours gray and ductile iron, producing a number of different types of iron castings for numerous industry sectors. In 1999, the company completely renovated its facility. In 2009, then-president of the company, Gill McBride purchased the company. For more information visit their website.