Richmond Baking Company Adds Production Shift, Makes Capital Investments in Richmond Facility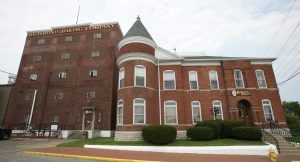 Richmond Baking Company, a contract food manufacturer, is in the process of adding an additional production shift and making capital investments to their facility located at 520 North 6th Street in Richmond. The company plans to add a second-shift production line on one of three ovens to meet increasing customer demand. In addition, the company plans on making upgrades to the flour room and replacing their freight elevator. Richmond Baking Company expects to invest $720,000 and create 38 new full-time jobs in addition to the existing 106 full-time employees. The company will receive an Economic Development Income Tax (EDIT) Grant of $24,000 to offset the cost of installation and purchase of new equipment and/or training of new employees.
EDC of Wayne County President, Valerie Shaffer, says it's exciting to partner with a company with such a long legacy in the community. "I'm thrilled Richmond Baking is adding to their workforce and investing in their iconic facility in Richmond. It's great to see them continue their legacy in Richmond where they've been an integral part of our community for 120 years and hopefully many more to come."
Richmond Mayor, Dave Snow says, "Richmond Baking Company is synonymous with quality and has secured themselves as an integral part of our city's narrative. This continued investment showcases a long and storied history of mutual benefit, and it looks toward a future of more impactful growth. I want to thank the Richmond Baking Company leadership for their investment and thank all those who have labored in that historic facility for all they have done to foster growth of this Richmond staple." The request for funds will go before the Wayne County Commissioners for their consideration.
About Richmond Baking Company
Richmond Baking Company is the oldest family-owned cookie and cracker maker in the country. Established in 1902, the company celebrates its 120th year in Richmond, Indiana. Richmond Baking produces cookies, crumbs and breading. The company has a facility in Versailles, Kentucky as well as in Richmond. For more information about the company visit richmondbaking.com.