Remembering Richard "Jeff" Jeffers, A Great Community Champion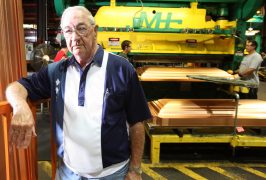 Recently our community lost one of its great community champions. Richard "Jeff" Jeffers gave of his time, energy, and support to the people and organizations of our community that needed him the most. Jeff was particularly interested in supporting the youth of our community because he knew how much they needed someone to invest in their future. His generosity didn't stop there, he treated JM Hutton's workforce like family. In fact, a number of Jeff's family work at JM Hutton and we can only imagine they have garnered the same love for the business and community that Jeff had advocated.
The community not only benefitted from Jeff's philanthropic endeavors, but also from his excellence in economic development, specifically his ingenuity at JM Hutton. What started as metal and wood casket manufacturing has now evolved to include metal stamping for the aerospace and automotive industries, precision laser cutting, powder coating, and much more. Anyone lucky enough to jump in Jeff's SUV or golf cart to ride through the plant was able to learn about the operation from Jeff's point-of-view. He beamed with pride as he navigated around tight turns to get through the plant. The EDC of Wayne County enjoyed a great working relationship with Jeff and was always eager to learn about new investments and new opportunities he brought to Richmond. We will miss his words of encouragement, his new ideas, and the frequent conversations and visits with him at the plant. We wish his family well during this difficult time and offer our support in any way we can to ensure JM Hutton's future is bright for generations to come.