Perpetual Recycling Solutions Plans to Invest $5.2 Million in New Machinery, Building Improvements, and Employee Training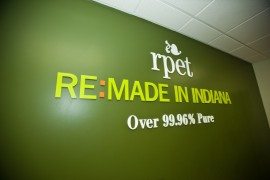 Perpetual Recycling Solutions, LLC, located at 1561 NW 11th Street in Richmond, will receive $25,000 in an Economic Development Income Tax (EDIT) Grant from the Economic Development Corporation (EDC) of Wayne County, Indiana.  The company plans to invest $5.2 million for new equipment, outdoor and building improvements, and employee training. The project will strengthen the company's position for future success by increasing efficiencies and increasing the skill level of their workforce.
Perpetual Recycling Solutions began operations in Richmond in 2012 in a building formerly occupied by General Aluminum. The company initially brought 55 new jobs to the area and have continued to add employees over the years. They currently employ 76 full-time employees. This is their first major investment project since locating here. EDC president, Valerie Shaffer says, "We're thrilled to see this company investing in their future here in Richmond and Wayne County. This project will only strengthen Perpetual Recycling Solution's ability to compete and be successful."  The request for EDIT funds will now go before the Wayne County Commissioners for their consideration.
About Perpetual Recycling Solutions, LLC
Established in 2011, Perpetual Recycling Solutions is a recognized leader in the polyethylene terephthalate (PET) recycling industry.  The company produces a high-quality clean PET flake that is used in food and beverage packaging, high end textiles, and other applications.  Perpetual Recycling Solutions helps companies find long-term recycling solutions for their products, and it invests in the highest-quality technology, processes and people to drive solutions throughout the industry. In 2015 Perpetual Recycling Solutions was purchased by Sorema Plastics Recycling Systems (a division of Italy's Previero N.S.R.L.) based in Como, Italy.