Osborn to Consolidate Facility into Richmond, Indiana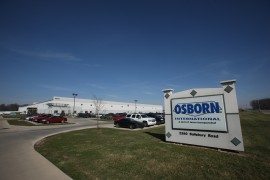 MILWAUKEE, June 1, 2017 — Jason Industries, Inc. today announced that its Osborn business will consolidate its Richmond, Virginia operations into its North American finishing headquarters in Richmond, Indiana. The move will create 47 jobs in Indiana.
"We're excited to expand our presence in Indiana," said Keith Walz, Vice President and General Manager for JFG Amercias. "This move will allow us to better leverage the collective strengths of our North American finishing operations, achieve operational synergies with our other finishing businesses and continue our tradition of timely customer service, on-time delivery and quality."
This relocation is part of Jason's ongoing efforts to reduce costs and improve operations by consolidating facilities where it makes sense. The consolidation is expected to be completed in the fourth quarter.
"We are committed to supporting our employees through this transition whether they transfer to Indiana or pursue other employment." said Walz.
About Osborn
Osborn is the world's leading supplier of surface treatment solutions and high-quality finishing tools for hundreds of industrial and commercial applications such as metal finishing, honing, and surface polishing. Founded in 1887, Osborn now includes operations in 13 countries and serves customers in more than 100 countries. A unit of Jason Inc., Osborn carries more than 10,000 standard products and more than 100,000 customized solutions to serve a diverse group of customers and industries. For more information, visit www.osborn.com.
About Jason Industries, Inc.
The Company is the parent company to a global family of manufacturing leaders within the seating, finishing, components and automotive acoustics markets, including Osborn (Richmond, Ind.and Burwald, Germany), Metalex (Libertyville, Ill.), Milsco (Milwaukee, Wis.). and Janesville Acoustics (Southern, Mich.). Headquartered in Milwaukee, Wis., Jason employs more than 4,400 people in 13 countries. Visit www.jasoninc.com.