Local Restaurants Benefit from the Richmond/Wayne County COVID-19 Subsidy Program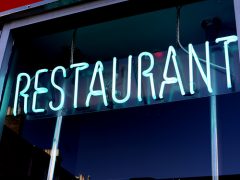 Wayne County restaurants were able to receive assistance from the Richmond/Wayne County COVID-19 Restaurant Subsidy Program created by representatives from the City of Richmond, Economic Growth Group (EGG), EDC of Wayne County, and the Wayne County Government. The funding for the program was made possible from remaining funds after two rounds of zero percent interest loans were made available to local small businesses negatively impacted by COVID-19. A total of 17 locally owned restaurants took advantage of the subsidy program that launched in mid-January which provided up to $1,000 per month for 3 months for a maximum benefit of $3,000 per business. Payments were made directly to either landlords or mortgage holders or to utility companies. The program provided a total of $50,180 in financial assistance.
Among requirements to be qualified for the program the restaurant needed to be located in Wayne County and the owner(s) be a Wayne County resident. Restaurants also needed to be operational at 100% capacity prior to March 15, 2020, forced to shut down or operate at a reduced capacity by State or Local governments due to a Public Health or Executive Order, and show a reduction of 20% or more revenue loss over the same period last year.
Valerie Shaffer, President of the EDC of Wayne County, says that she is proud of the work of the EDC who managed this local subsidy program. "The goal of the program was to help the hardest hit businesses and during the winter months, that was our local restaurants. Restaurants are an incredibly important facet of our quality of life in Wayne County. It is critical we do what we can to make sure they remain viable during and after the pandemic. The last thing we want to see is a large number of our local restaurants close. It is my hope that the community continues to eat and shop locally to ensure the survival of our small businesses."
Funding for the program was made possible by the following: City of Richmond, the Economic Growth Group, the EDC of Wayne County through the Consolidated EDIT Fund, and the Wayne County Government. Restaurants receiving assistance from the program include:
5 Arch Brewing
5th Street Bagel
Americana Pizza
Captain's Corral (formerly Golden Corral)
Corner Café
Dale's Pizza
JoAnn's Café
Just Smokin' Food Truck
Little Sheba's
Sunshine Café
Taste of Szechuan
The Cordial Cork
The Olde Richmond Inn
The Tin Lizzie
Ullery's Ice Cream
Willy and Red's
Yamato Steakhouse and Sushi