High School Students Tour Local Manufacturers on MFG Day in Wayne County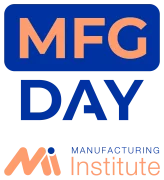 The first Friday in October is designated MFG Day, manufacturing's biggest annual opportunity to inspire the next generation, positively shift perceptions about the industry, and build a foundation for the manufacturing workforce of the future. Over the next decade, 4 million manufacturing jobs will need to be filled in the U.S. Since 2012, MFG Day has helped students discover financially rewarding job opportunities in this diverse industry.
This year over 300 Wayne County high school students will get the opportunity to tour two of seven participating local manufacturers. Participating companies include: Madison-Kipp; Ahaus Tool & Engineering; Blue Buffalo; Transcendia; Primex Plastics; SugarCreek, and Dot Foods. Participating high schools include Richmond, Northeastern, Lincoln, Centerville, and Hagerstown. Following the tours students will be provided with lunch and additional information from Ivy Tech Community College to assist them in their career planning. Lunch sponsors for this year's event are the EDC of Wayne County and Smiley's Pub. On Wednesday October 11th, 125 students from Centerville High School will tour Primex Plastics and visit Indiana University East to explore various career opportunities.
For many years the EDC of Wayne County has led the planning for MFG Day tours in Wayne County. Valerie Shaffer, President says, "The tours help connect students to jobs in manufacturing and to bring awareness of the diverse industry we have in the area. The enthusiasm of our manufacturers and support of the schools make this event possible."
About MFG Day and The Manufacturing Institute
MFG Day is an initiative of The Manufacturing Institute (MI), a nonprofit organization building, diversifying, and strengthening the modern manufacturing workforce with the goal of furthering individual opportunities, community prosperity, and a more competitive manufacturing industry.
MI is a workforce development and education affiliate of the National Association of Manufacturers. The organization works with manufacturers to equip them with solutions to address the toughest workforce issues through implementing groundbreaking programs, convening industry leaders, and conducting innovative research. For more information on MI visit manufacturinginstitute.org. For more information on MFG Day visit mfgday.com.