EDC of Wayne County Hosts Annual Meeting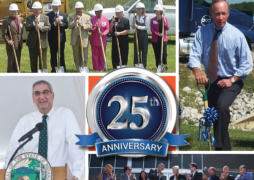 The EDC of Wayne County celebrated its annual meeting on Monday, May 13th. The organization recapped 2018 as well as highlighted initiatives for 2019. 2018 marked the 25th anniversary for the organization which was showcased in photos on the annual report cover spanning over two decades of economic progress.
The EDC worked with five companies in 2018 involving four business retention and expansion projects and one new investment project. Omen USA, SugarCreek, JM Hutton & Company and Taconic Biosciences all had expansion projects. Grace Sales & Engineering is a new company that will recycle thermoplastic and rubber materials into a suitable product for sheet extrusion.
The projects represent 377 total new job commitments resulting in over $13 million in new annual payroll with a total average hourly wage of $17.16. Companies made a total private investment of over $51 million.
The EDC presented Wayne County Commissioner, Kenneth Paust with the Economic Development Partnership Award. In addition, the EDC recognized outgoing board members Johnnie Barrett, Jeff Jackson, Josh Russell and Paul Witte. Tim Frame was recognized for his time as chair of the board of directors in 2018.
The EDC was pleased to welcome guest speaker, Sarah Reineke from Development Counsellors International. Sarah works with communities to develop campaigns specifically targeting talent and help position a community's culture and livability to a prospective workforce. Most recently Sarah worked with the Northeast Indiana Regional Partnership to launch a new brand and talent strategy.
Details on business development and EDC initiatives, plus much more can be found in the 2018 annual report.