Dot Foods' Transportation Division Receives EDIT Grant for Earn to Learn Semi-Truck Driver Training Program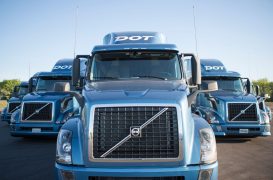 Dot Transportation, Inc. (DTI), a division of Dot Foods, Inc., will receive an Economic Development Income Tax (EDIT) Grant totaling $86,000 to assist with their semi-truck driver training program called Earn to Learn. This project also includes capital investments at the property located at 14600 Gateway Road in the Indiana Gateway Industrial Park, located just off Interstate 70 at the Cambridge City/Hagerstown exit.  These improvements will expand office space for the company which will allow for previous office space to be converted into a truck driver lounge. Additional enhancements to the parking lot and gate station will also be made. Dot plans to invest a total of $5.5M and create 43 new full-time semi-truck driver positions by 2025.
In 2014, DTI created their Earn to Learn semi-truck training program which provides tuition for non-CDL Class A applicants to attend school to earn their CDLA. In addition, new hires are paid $750 while in school and are considered Dot Foods employees beginning on the first day of CDLA school. After obtaining their CDLA they will enter Dot's 10-week training program where they will receive $750 a week while working with the Driver Trainer Team. Average pay for a full-time Dot driver can be $80,000 or more in their first year. Dot drivers can earn $107,000 annually after their first year plus benefits.
Dot began work on the office expansion this month with a target completion date of March, 2023. Work on the gate station also began this month with a target completion date of October, 2022.
EDC President, Valerie Shaffer says DTI took an innovative approach to increasing the number of truck drivers and it paid off. "Dot Transportation, Inc.  has been dedicated to finding ways to increase the number of semi-truck drivers for the company in a time where a national shortage of drivers is at an all-time high. We've seen their efforts pay off and that's great news for Cambridge City and our county. It's exciting to see this company continue to grow in Wayne County." The request for funds will now go before the Wayne County Commissioners for their consideration.
Update: The amount of the EDIT grant was amended from $86,000 to $66,000 on Monday, November 7th by the EDC Board of Directors at the request of Dot Transportation due to changing employment expectations.
About Dot Foods, Inc.
Dot Foods is headquartered in Mt. Sterling, Illinois and has been family owned and operated for over 60 years. Dot Foods is the largest food redistributor in the nation with 14 distribution centers, including the one located in Cambridge City, and two in Canada. Dot has a total of 4.7 million square feet in warehouse space with 1,020 suppliers offering over 125,000 products. Products are delivered in LTL (less-than-truckload) quantities to distributors in more than 55 countries. For more information visit www.dotfoods.com.