We're Seeking an Office Manager!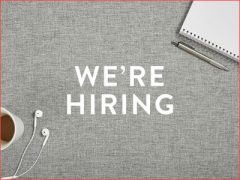 Working at the Economic Development Corporation of Wayne County is more than just a job, it is a dedication to the community. The work of our organization helps to drive change and positively impact Wayne County through business, community, and workforce development efforts.
The office manager is a key team member that supports the rest of the staff and ensures that the office runs smoothly and efficiently.
Responsibilities 
Accounting:
A key function is processing payroll, accounts receivables, and accounts payables as well as working closely with an outside accounting firm to review work, reconcile bank accounts, and prepare monthly financial reports.
This position must be able to create financial reports for finance committee meetings and prepare the treasurer's report for board meetings.
This position will also oversee the yearly financial audit with an independent accounting firm to satisfy requirements of the Indiana State Board of Accounts.
Data and Information Management:
Maintain data found on the homeinwayne.com and whywaynecounty.com websites, including the properties listed in the sites and buildings database, to ensure all information is current. This requires tracking several data sources along with outreach to economic development partners including utility providers, real estate agents, and property owners to obtain information.
Research and collect data for Requests for Information including preparing proposals, cover letter, and various maps coordinated through the GIS coordinator for Wayne County.
Responsible for Cost of Living Index data collection and input three times per year. This requires physically visiting several stores to price check items, as well as personal outreach to service providers.
Administration Functions:
Responsible for human resource functions of office including record attendance, manage benefits, and help with onboarding of new employees and board members.
Responsible for updating internal and external reports and project management spreadsheets.
Coordinate staff schedules and help organize meetings.
Receive and route all incoming mail and phone calls for the staff.
Maintain common areas of the office including all office equipment and working with service providers such as IT support.
Maintain and update all the records of the corporation.
Oversee coordination, agendas, meeting packets, and take minutes for all committee and board meetings.
Responsible for updating contact databases, procurement of office supplies, planning meetings and events.
Experience:
Associates degree in business administration, accounting or comparable program preferred.
Five years of professional work experience required.
Working knowledge of standard accounting rules, practices, and procedures.
Working knowledge of and ability to operate corporate computer terminal and Microsoft Office applications including Outlook, Word, and Excel.
Research experience with a demonstrated capability of analyzing and tracking data.
Ability to maintain confidentiality of corporate information and to maintain accurate records and files as well as prepare factual reports.
Must be able to effectively communicate in written and oral formats with co-workers, clients, community leaders, elected officials, agencies, and members of the general public.
Ability to multi-task by working on several projects simultaneously and often in a fast-paced environment.
Salary/Benefits:
Starting salary $40,000 annually
Major medical, dental, vision, and short- and long-term disability coverage provided.
403b retirement plan provided with 5% contributed and no match required.
Mileage reimbursement offered for work travel.
Cell phone provided.
To apply for this position, send resume and cover letter to Valerie Shaffer at valerie@whywaynecounty.com.
Come and be a part of a team that is helping to shape our community!