Wayne County Loan Program Awards Over $415,000 to Small Businesses In Second Round of Funding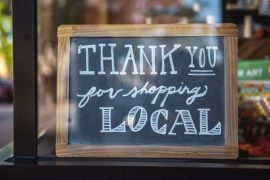 Seventeen small businesses in Wayne County will receive a combined total of $415,000 in funding through round 2 of the Wayne County COVID-19 Small Business Loan Program. The loan program is a collaboration between city and county leaders. Denny Burns, Wayne County Commissioner and Chair of the Wayne County Economic Development Revolving Loan Fund Board, says Wayne County's small businesses are the lifeblood of the community. "Any help we can give them to survive this pandemic is well worth the effort."
Officials made modifications in round 2 allowing businesses with up to 150 employees to apply, 100 more than allowed in round 1. Business owners were also not required to be Wayne County residents if they could demonstrate more than 75% of their employees were residents; round 1 required an owner to be a resident of Wayne County.
In both rounds, applicants could apply for up to a $25,000 loan with 0% interest, 6 months of deferred payments, and a 60-month term. Richmond Mayor Dave Snow says the program is an example of Hoosier perseverance and collaboration between city and county leaders. "It's certainly been a difficult year; however, we'll always find ways to navigate through tough times to come out stronger and more resilient. We will continue to work together on assisting our vital local businesses, and we ask that you do your part and keep eating, shopping, and buying local. Our small businesses need us now more than ever." Between the two rounds the program has assisted 32 small businesses by providing loans totaling $746,000.
Paul Lingle, President of the Economic Growth Group, who provided funding for the program, says the organization is proud to be part of the assistance for over 30 small businesses. "Small businesses are the backbone of a strong and vibrant economy. They are dedicated men and women that daily meet the challenges of owning and operating a business. Having to close their doors because of COVID-19 has been devastating. This little boost will bring them back stronger than ever."
Funding for the loan program was made possible through the contributions of the following sources:
Wayne County Government – $150,000
City of Richmond – $150,000
Wayne County Economic Development Revolving Loan Fund – $250,000
EDC of Wayne County – $250,000
Economic Growth Group (EGG) – $100,000
(EGG is a private 501 C3 development corporation made up of members from business, finance, utilities, and the community. Members give of their time and resources to help new and existing Wayne County businesses.)
Each entity who contributed funding will be repaid annually based on the percentage of the contribution as loans are repaid. Local leaders are currently working on another local assistance program that may utilize a portion of the unused pooled funds. More information in the coming weeks will be available as the new program is developed.