Grafcor, Inc. Expanding, Creating 33 New Jobs at Richmond Facility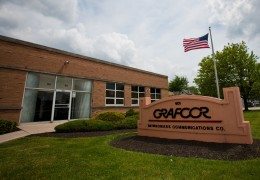 Grafcor, Incorporated, a large format printer and a division of Innomark Communications, will receive $105,000 in an Economic Development Income Tax (EDIT) Grant from the Economic Development Corporation (EDC) of Wayne County, Indiana. Innomark Communications plans to relocate a screen printing operation from a facility in Kentucky to the Grafcor plant located at 601 NW 5th Street in Richmond. The consolidation will combine some of Grafcor's current offset lithographic capability with screen print and finishing/packaging capabilities. EDC of Wayne County president, Valerie Shaffer, says it's great to be able to partner with Grafcor and Innomark Communications on this consolidation project. "We know we are competitive, it's always great when companies realize the benefits and assets Richmond has to offer. We're thrilled Innomark Communications is bringing this project here."
The project will create 33 new jobs and retain 17 jobs. The company plans to invest around $1.5 million in building improvements, relocation and installation of equipment, and the purchase of new IT equipment, as well as employee training. The EDIT grant will be used to assist the company with expenses associated with the relocation and employee training. Company officials expect to have the equipment installed in the Richmond facility by January, 2016. Officials expect some hiring to be done in 2015, with the bulk of the hiring to begin in January. The request for EDIT funds will now go before the Wayne County Commissioners for their consideration.
About Grafcor, Incorporated and Innomark Communications
Grafcor, Inc. opened their Richmond operation in 1993. The company prints large format, point-of-sale displays for the global retail market and works with retailers, consumer packaged goods companies, corrugators, integrators and content packaging facilities.  Products they have done printing for include food products, apparel, auto parts, and housewares.  A division of Innomark Communications, Grafcor is among 9 facilities located in 6 Midwest states. For more information about Grafcor, Inc., visit www.grafcor.com.
Innomark Communications provides integrated and innovative visual merchandising for the retail sector and consumer product manufacturers who supply the retail sector.  Services include pre-media, litho, digital and screen printing, creative, special packaging, retail/promotional, manufacturing, fulfillment and distribution.  Products include temporary and permanent displays and product packaging. For more information on Innomark Communications visit www.innomarkcom.com.