EDC of Wayne County Announces New Manager of Existing Business and Education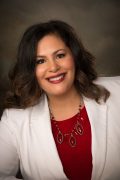 Richmond, IN (January 16, 2018) – The EDC of Wayne County is pleased to announce Sarah Mitchell will be joining the staff as the manager of existing business and education on Monday, February 5th . Mitchell brings a wealth of experience to the position from her previous role as city planner for the City of Richmond. Through her role, Mitchell has worked on a number of economic development projects in which the EDC was involved. She has a wealth of experience in facilitating new development through community partnerships that enhance the community and sustain economic growth.
While at the city, Mitchell played an integral role in several initiatives and projects including Stellar Communities planning and implementation, Blight Elimination Program, Neighborhood Stabilization Program, Plan Commission and Board of Zoning Appeals. As city planner she assisted in facilitating development in Richmond and the two mile fringe through her knowledge of the City of Richmond Comprehensive Plan and the Unified Development Ordinance. Her local involvement on boards throughout the community will provide valuable experience as she works with educators and employers on workforce development initiatives.
Mitchell has a Master of Science in management from Indiana University and a Bachelor of Urban Planning and Development from Ball State University. She is a member of the board of directors for several organizations including Boys and Girls Club of Wayne County, Communities in Schools, City of Richmond Revolving Loan Fund, and the Urban Enterprise Association. She was the Wayne County coordinator for the Indiana Bicentennial and a Top 20 Wayne County Young Professional in 2016. Please help us welcome Sarah Mitchell to the EDC of Wayne County.