American Quality Molds is Awarded $53,500 Through a grant from the State's Manufacturing Readiness Program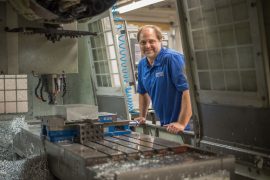 American Quality Molds (AQM), a subsidiary of Shrader Enterprises, LLC, 710 NW 5th Street, Richmond, has been awarded a $53,500 matching grant from the State of Indiana as part of the Manufacturing Readiness Grant program. The grant program, administered by Conexus Indiana and the Indiana Economic Development Corporation, was created in response to the recent, continuing COVID-19 pandemic. The grant funds are intended to help manufacturers obtain capabilities and machinery to be able to bring products to market quicker, as the need arises, whether from a pandemic or other supply chain interruption.
Shrader Enterprises, LLC, is home to three businesses in Richmond, all located within the corporate facility at 710 NW 5th Street. Two companies have been in operation for 14 years under Shrader Enterprises. They are Complete Power, a mower sales and small engine repair shop, and AdTec Floor Care a commercial floor cleaning business. A little over two years ago, Rick Schrader (pictured), President and Owner, purchased American Quality Molds (AQM), located in Hamilton, Ohio, from its founder and former owner. In March of this year, Schrader moved the company from Hamilton to Richmond in an effort to bring manufacturing to Richmond as well as improve operations. In the Richmond facility AQM has more space for equipment and stock, and better process flow, enabling more production and quicker "to-market" times for its products.
Mayor Dave Snow says, "Richmond is thrilled to welcome American Quality Molds to our robust and diverse economic landscape. This is, yet again, another example of our welcoming business environment and our willingness to be a partner in business growth and success. It is our hope that through working together, American Quality Molds will thrive here in Richmond."
AQM manufactures high quality precision aluminum mold bases for the plastic injection molding industry. Plastic injection molding provides many everyday items used by the general public. Plastic injection molds are also essential for producing critical parts for the medical community – equipment, devices, tests, and personal protective equipment (PPE) – much of it used in combating the current Coronavirus pandemic. Current customers for AQM products are scattered throughout the United States and beyond.
Valerie Shaffer, president of the EDC of Wayne County shares, "I am thrilled that Shrader Enterprises, LLC continues to invest in Wayne County. The addition of American Quality Molds demonstrates that we are a great location for manufacturing, and I look forward to supporting their growth for many years to come.
To qualify for the $53,500 matching funds from the grant, AQM proposed a $200,000 facility improvement program, of which at least $107,000 of new equipment and software must be purchased by next summer. The new equipment will improve the company's ability to design parts, enable higher production, and will significantly enhance worker safety. This allows AQM to better serve its customers, whom ultimately provide needed supplies to the residents of Indiana and beyond.